---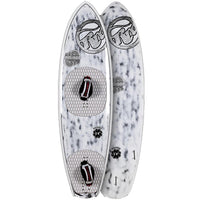 Sale
RRD 2011 Magonda 5'4 Kiteboard
Sale price $300.00 Regular price $899.99
Roberto Ricci Designs has come up with an impressive board lineup for 2011. The lineup is so extensive, that any rider out there can rest assured he can find the board which meets his specific needs, regardless of style and skill. The 2011 Magonda is a board intended for the pro and experienced rider who is looking for some strapless action. Magonda is very dynamic and reliable in most wind and wave conditions. Take this board out for a spin and you will definitely love the way it performs. RRD Magonda is available in two sizes and comes in Limited (LTD) and Classic versions.
RRD Magonda is a board which went through a serious process of research and development. RRD team has used the latest technology and the best fabrics to make sure that it will meet the highest performance and quality standards. The Magonda is not a board suitable for anyone. It is intended for the pro rider who loves to ride strapless.
The board is fast and powerful, yet it has excellent control and stability. Nevertheless, a novice rider may feel uncomfortable without proper feet support. The surfboard shape, with wider hips and narrower tip and tail assures a fast and drag free slide. The board has plenty of pop and can get you airborne fast and without effort. It reaches high speeds, but it has an accurate and direct control. Steering requires no effort at all. The continuous curve outline assures a smooth glide, while the winger tail provides optimal power release and enhances steering.
The wider nose allows the rider to ride any wave while it has plenty of comfort and can enjoy the stability of a longer board, even if the Magonda is more compact. The concave bottom design provides excellent grip, even at high speeds and in fast turns. At the same time this feature prevents eye spray and allows the rider to experience smooth and predictable landings. RRD has used a fast rocker line to make sure that the board has great upwind and early planning abilities. The Magonda really excels at strapless performance and it is guaranteed to offer a fun and thrilling session.
RRD has constructed the board in two different versions: Classic and Limited. The Classic version uses PU foam and polyester combined with PVC structure and it has a surf feeling out on the water, while the LTD version is based on an EPS core and PVC wrapping to assure a more dynamic flex and a lighter weight. Both versions are highly durable can take all the possible punishment without suffering any damage at all.
No fins or straps. Final sale.